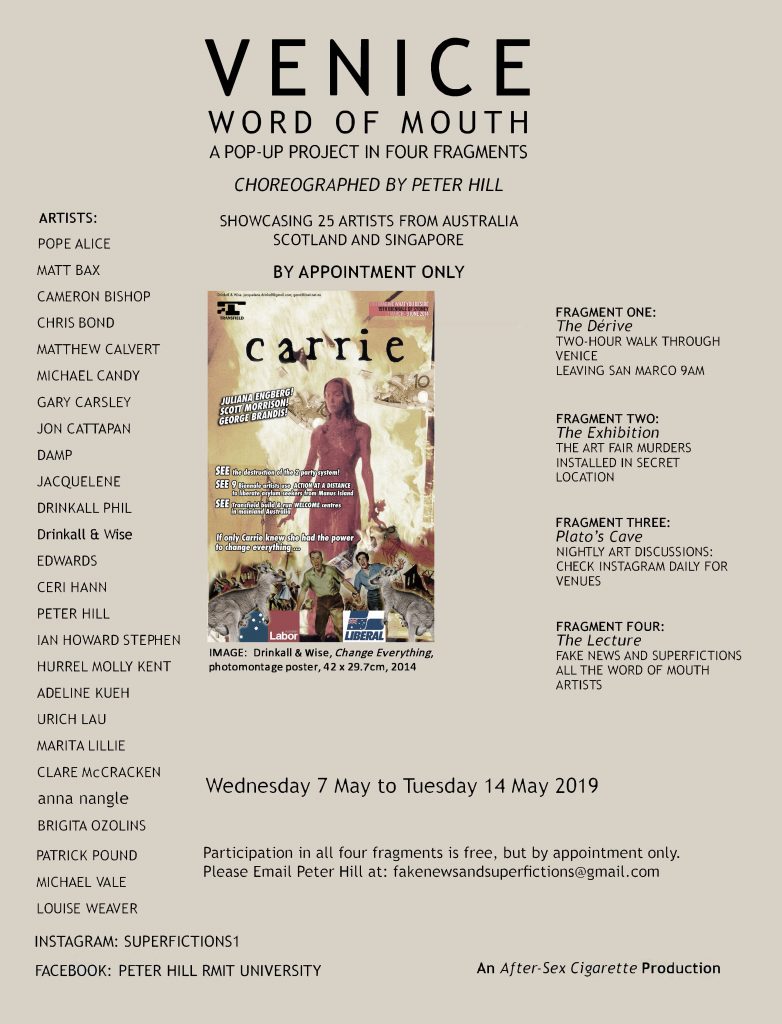 Upcoming exhibitions:
2019, Carrie, Biennale of Venice
2019, The Cook, previously scheduled for 2011 (The Substation, Singapore). Life in Singapore is tough for a good majority migrant Tamil workers who are often forced to work six to seven day a week in 30º plus heat – in tenuous employment where they see themselves as expendable. A performance in the form of cooking for Tamil workers within the gallery space – a simple kitchen to sensitively invert my class relationship. In conjunction with the cooking, I had intended to develop an installation that directly paid homage to an experimental art space that the famous artist Roberto Chabet began in Manila in the 1970s. (Shop 6). Extra-Statecraft and e-flux article
.
2019 Galerie Neues Problem June;
2018 MAP curated work December;
2017 New Contemporaries, SCA Galleries, May 2017; KIOSK MAP with Ian Milliss, Fiona Davies, Dan Kojta, Chris Caines, David Haines, Mahalya Middlemist, Amanda Hunt, Sean O'Keeffe, Rachel Peachy
UNESCO Women in Science Awards. Development of Projection of 3D imaging and design for Quantum physicist Michelle Yvonne Simmons. UNESCO site. Now Australian of the year 2018
2016 Graduate Show SCA, USYD; Performance with LOCO. Titled Unattained baggage – public reactions to unattended items of baggage in the public domain; June Saas-Fee, Switzerland <>; Anyspace 59 RUE VAN EYCK, 1050 BRUSSELS BELGIUM March,
2015-6: Neues Problem Gallery, Berlin (Kreuzberg North). Two group exhibitions. Quantum Aesthetics assisting Jacque Drinkall – HARLEQuin UFO Casula Powerhouse Paramor Prize
Other projects
Chimaera and Data Retention II. Similar motivations are at work in my own practice, such as in Chimaera, an image manipulation project based on the ubiquity of the selfie in social media.
Chimaera is an ongoing online project I initiated in conjunction with an artist and developer at HKU University of the Arts, Utrecht in 2015. The original basis for this work is my interest that has developed over the last five years in what I call our 'ever-present online life'; that is, our tendency to document and upload everything in our lives. Chimaera was initiated in 2015 due to my growing fascination with the relationship between what is visible online and the power of proprietary algorithms developed by the likes of Google and other trending and social media software. I made the decision to implement this work as a series of montages, combining characteristics from Google-sourced portrait images with photographs of myself from my ongoing social media profile in a way that points to a progressive loss of autonomy and identity online. (thesis Chapter 5)